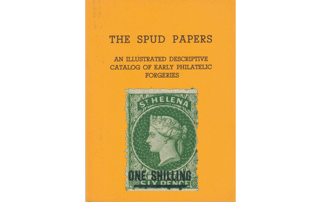 1864. 1 Shilling, Green.
Genuine
Engraved in taille-douce on white wove paper, watermarked with cc. and crown; perf. 13. It is sometimes impossible to see the watermark, so this test is not always available. The general background of the stamp is formed of a very distinct engine-turned pattern of fine white lines, and the background of the central medallion is an engine-turned pattern of coloured lines. This central medallion is bounded by a very fine line; and the convex portion of each outer scallop of the central engine-turning touches this line, leaving a row of white half-diamonds all round the inside of the fine circular line.
Forged
Lithographed, on thinnish white wove paper, unwatermarked; pin-perf. 12 1/2. The white engine-turning of the background is very indistinct and blotched. The coloured engine-turning of the central medallion is better done, but the little white half-diamonds round the outside of the medallion are not visible, and the fine line which surrounds the
medallion seems to be only a part of the engine-turning. As the originals are taille-douce engravings, the ink stands out well in all the dark parts; but the forgeries, being lithographs, do not exhibit this peculiarity.
Postmarks
The originals are generally postmarked with four V's, placed point to point at some little distance from each other. I have also seen four very wide bars, and sometimes a pen-stroke.
The forgeries are cancelled with dots, or with short blotches hardly long enough to be called bars.
I am sorry to have to give such a poor description of this forgery; but if our readers will take the trouble to place the forgery here given, side by side with a genuine stamp, they will see that there really is no very marked difference between them which would serve to detect the genuineness or otherwise of a single copy. My object, in these Spud Papers, is to give, if possible, such tests as will enable the possessor of a copy of any stamp to say at once whether that copy is genuine or forged; but, as our readers will see, this is a difficult matter with the stamp in question.
From "The Spud Papers" by Atless, Pemberton & Earée, 1871-1881.
http://stampforgeries.com/wp-content/uploads/2013/10/Spud_StHelena.png
202
320
admin
http://stampforgeries.com/wp-content/uploads/2014/05/Stampforgeries.com-logo.jpg
admin
2013-10-08 16:15:54
2013-11-20 10:47:56
Spud Papers - St. Helena