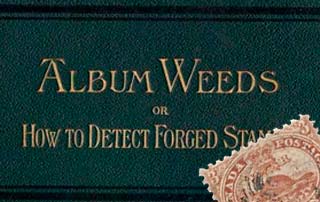 1857. 3d., rose, perf. 12.
I have seen no forgery of the stamp itself; but, as the perforated issue is worth 12s., while the unperforated only fetches 1s. 6d., the forgers have supplied the genuine with various gauges of perforations.
Genuine Perforation
The perforation gauges 12, and is nicely done. From outside to outside of the perforations, the stamp measures 25 x 20 1/2 mm.
Forged Perforations
I have the stamps perf. 10, 12, 12 1/4, and 13. From outside to outside of the perforations, the following are the measurements of the stamps in my possession:
Gauge of Perforation / Size of Stamp:.
Perf. 10 / 24 x 19 1/2 mm.
Perf. 12 / 24 x 19 1/2 mm.
Perf. 12 / 24 x 19 mm.
Perf. 12 1/4 / 24 1/2 x 19 1/2 mm.
Perf. 13 / 24 x 19 3/4 mm.
As might be expected from these measurements, the perforations generally eat into the design, on one side, if not more. The stamps perf. 12 are, of course, dangerous.
My publishers' Catalogue states that this value is known perf. 14, and also percé en scie 13, but that it is very doubtful whether these latter are genuine.
1857. 6d., grey-lilac, purple-brown, perf. 12.
Genuine Perforation
This is a clean-cut perf. 12, as before.
Forged Perforation
My only specimen is perf. 12, like the genuine, but it has a very poor and ragged appearance, and is extremely close to the design on three sides.
Postmarks
Genuine.—One of the most usual postmarks on the early Canadians is very like 68, but with the outside circle no thicker than the rest. I have also 6, with very large numerals in the center. There are, however, many others.
Forged.—These, of course, have genuine cancellations.
Bogus Official
I have lately (1902) come across the large cent of 1868 with the word OFFICIAL (measuring 20 x 2b mm., printed obliquely upwards, from left lower to right upper corner. No such stamp was ever issued.
From: 'Album Weeds', 3rd edition by R. B. Eareé. 1906

http://stampforgeries.com/wp-content/uploads/2013/12/Album_Weeds_Canada.jpg
202
320
admin
http://stampforgeries.com/wp-content/uploads/2014/05/Stampforgeries.com-logo.jpg
admin
2013-12-09 19:45:32
2013-12-09 19:45:32
Album Weeds - Canada