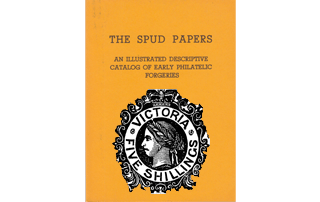 1868. Five Shillings, Blue on yellow.
Genuine
Epargne. Perf. 13. Watermark, V. and crown. It is impossible to give all the minute differences between the genuine and the forgery. The neck of the Queen is shaded
all over. There is a neat coil of plaits at the back of the head.

Forged
Lithograph. Perf. 13 (very small, and far apart). No watermark. Whole of design very poor and coarse. A large portion of the neck unshaded. The hair at the back gathered into a loose shapeless lump. Twentyfive in sheet, 5 X 5.
1868. July. Five Shillings, Blue and rose, on white.
Genuine
Same type as last, but printed at twice, for the two colours. Perforation and watermark as before.
Forged
Same type as last, perf. 12 or 12 1/2.
From "The Spud Papers" by Atless, Pemberton & Earée, 1871-1881.
http://stampforgeries.com/wp-content/uploads/2013/09/Spud_Victoria.png
202
320
admin
http://stampforgeries.com/wp-content/uploads/2014/05/Stampforgeries.com-logo.jpg
admin
2013-09-21 11:21:24
2013-11-20 12:11:38
Spud Papers - Victoria