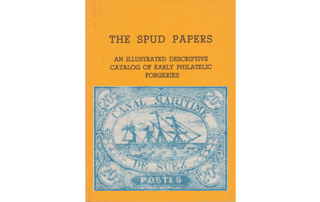 Late in 1868, M. Maury, in his Collectionneur, first made mention of a set of stamps having been issued by this company, for the use of persons in their employ. So far as we are individually concerned, we have always felt inclined to regard the assertion with discredit, and have certainly considered the labels themselves as the results of a "little game". Although these things have been out getting on for four years, nothing really definite has been given as to their character; the only amateur looking upon them with favor, being the one so well known under the nom de plume of "A Parisian Collector." Speaking of the omission of the stamps from Mr. Overy Taylor's catalogue, the writer alluded to states, "All that we can say is, that our own copies came directly from the company, by order of M. de Lesseps. We know that they were used by the company for a short time, but the authority to continue them was withdrawn by the Khedive. Obliterated copies are as rare as obliterated specimens of the stamps of the Ionian Islands." An obliterated copy was found in the splendid collection of Mr. Suchsland, lately amalgamated with Mr. Pemberton's collection.
The above are straightforward assertions, and authenticity of these stamps.

1, 5, 20 and 40 c.
Genuine
Clouds light, with very little dots about them; no speck between the stern and funnel; smoke does not go higher than the top of mast.
Forged
Clouds heavy, composed chiefly of dotted lines. Between the stern and the funnel is a dot representing a passenger. The smoke goes through the mast at some distance from its top.
From "The Spud Papers" by Atless, Pemberton & Earée, 1871-1881.
See also:
http://stampforgeries.com/wp-content/uploads/2013/09/Spud_Suez.png
202
320
admin
http://stampforgeries.com/wp-content/uploads/2014/05/Stampforgeries.com-logo.jpg
admin
2013-09-10 22:15:18
2014-03-26 10:00:32
Spud Papers - Suez Maritime Canal Company