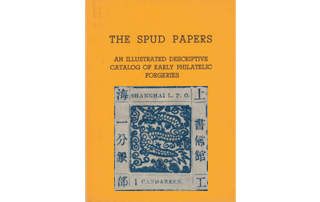 1866 issue. 1, 2, 3, 4, 8 and 16 Candareens; imperf.
Genuine
These stamps are printed from ivory blocks, the design slightly varying for each value. They are on very thin or pelure paper, and on rather stouter paper, making two sets. The 3 Candareens is, however, only found on the stouter paper, so far as we have been able to discover. The paper being so thin, the blocks have left a slightly sunken impression; so that the lettering appears more or less raised on the back of the stamps. This is not so in the forgeries, which are lithographed and perfectly smooth. The stop after L . ( Shanghai L.P.O.) is rather large, and close to the L., almost touching it. The longest spike of the dragon's tail touches the outer line of design (not of border) in every case. The lines dividing the framework do not touch the borders, neither do they correspond with each other.
Forgeries
These are lithographed, on moderately thin white wove paper, stouter than that of the genuine stamps. Being lithographed, the lettering is not sunk. The upper inscription is in all sorts of type, large and small;— on the 1 and 2 Candareens, for instance, it is very large; whilst on the 12 Candareens, it is scarcely half the size. The stop after 1 is very small, in every case, and is at a good distance from it. The dragon's tail does not touch the outer line of the design in any part. In all but the 12 and 16 Candareens, the inner line of border forms an "Oxford frame." The design varies for each value, as in the genuine. Both genuine and forged stamps are ungummed, and have an extremely broad margin all round.
From "The Spud Papers" by Atless, Pemberton & Earée, 1871-1881.
http://stampforgeries.com/wp-content/uploads/2013/09/Spud_Shanghai.png
202
320
admin
http://stampforgeries.com/wp-content/uploads/2014/05/Stampforgeries.com-logo.jpg
admin
2013-09-17 21:23:27
2013-11-20 12:16:54
Spud Papers - Shanghai