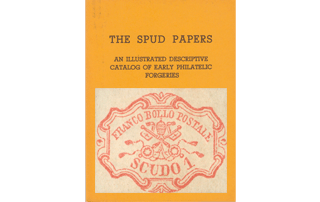 1852, 1 Scudo.
Genuine
Epargne. Chalky pink. Two of the crowns on tiara Very distinct. Cross at top of tiara does not touch the lettering above it. F of FRANCO has a very large bottom stroke, which makes it almost like an E. No stroke at top of A in POSTALE. E of POSTALE larger at the bottom than the top. D of SCUDO flat at the bottom. Paper slightly yellowish, and gummed.
Forged
Lithograph. Vermilion-rose. Three plain bands on tiara instead of crowns. Cross at top of tiara runs into base line of first L in BOLLO. F. of FRANCO has no bottom stroke. Small cross stroke at top of A in POSTALE. E. of POSTALE considerably larger at the top than at the bottom. Base of D in SCUDO cut away obliquely. Paper very white, ungummed. Printed in sheets of 36; 4X9.
From "The Spud Papers" by Atless, Pemberton & Earée, 1871-1881.

See also —> Fournier forged cancellations of Roman State
http://stampforgeries.com/wp-content/uploads/2013/09/Spud_PapalState.png
202
320
admin
http://stampforgeries.com/wp-content/uploads/2014/05/Stampforgeries.com-logo.jpg
admin
2013-09-21 09:56:52
2013-11-20 13:04:09
Spud Papers - Roman State