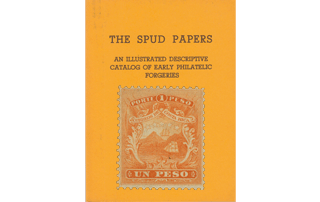 The stamps of this republic, being finely engraved, offer great difficulty to the forger. The imitations are so coarse, in comparison with the originals, that anyone beyond the merest tyro would at once detect them. There are four values:
1/2 Real
2 Reales
4 Reales
1 Peso.
All the forgeries are from one matrix, after the manner of the genuine. Taking the latter first, we find that the stars are all well-formed; and the groundwork of the stamps is composed of minute lines very close together. The almost triangular space between the smallest vessel and the rocks, is shaded throughout. The utmost point at the central star, is at some distance beneath the ribbon of the wreath, and the tout ensemble of the design is perfect. In the counterfeits, the stars are of various shapes, the back-ground is coarse, the space between the rocks is nearly unshaded, and the point of the middle star goes between the ends of the wreath.

The 1 Peso was very stupidly imitated, PESEDA having taken the place of the orthodox word.
 It may be as well to mention that, although the genuine real is evidently from the same matrix as its companions, it presents a slight difference, there being a semi-circle of deep shading above the upper label.
In the two highest values, an outer line has been added to the frame.
From "The Spud Papers" by Atless, Pemberton & Earée, 1871-1881.

See also –> Album Weeds – Costa Rica
http://stampforgeries.com/wp-content/uploads/2013/09/Spud_CostaRica.png
202
320
admin
http://stampforgeries.com/wp-content/uploads/2014/05/Stampforgeries.com-logo.jpg
admin
2013-09-08 14:13:39
2014-01-27 20:19:56
Spud Papers - Costa Rica