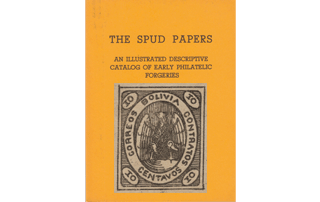 1868. 5, 10, 50, 100 & 500 Centavos
The quintet comprising the present issue are from one matrix; the forgeries are produced upon the same economical principle. With the exception that the impostures are coarsely lithographed, and the originals finely engraved, it is really a matter of some slight difficulty to describe the salient points of difference between the two.
Genuine
The lower banner-heads on the right- hand upper portion of the stamp reach to the extremity of the circle. The spear-heads above the top star upon each side are shapeless strokes. The lines in the central oval are very close together, and altogether the stamps have a finished look.
Forged
None of the banner-staffs on the right-hand side extend to the edge of the central disc. The staff-point above the uppermost star on the left of the stamp is well formed, and is forked to resemble a spear. The horizontal lines in the central design are coarse and far apart, and the Noah's-ark looking sheep (if it is a sheep) is an object for commiseration.
From "The Spud Papers" by Atless, Pemberton & Earée, 1871-1881.

For more information about the classical issues of Bolivia, see —> Carlos Royuela's exhibition
See also –> Album Weeds – Bolivia
http://stampforgeries.com/wp-content/uploads/2013/09/Spud_Bolivia.png
202
320
admin
http://stampforgeries.com/wp-content/uploads/2014/05/Stampforgeries.com-logo.jpg
admin
2013-09-05 21:42:13
2013-11-20 12:39:09
Spud Papers - Bolivia