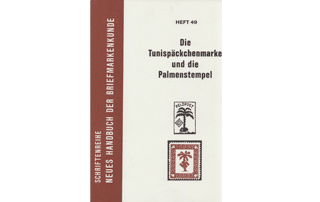 The Tunis Feldpost stamp is one of the classics of WW2 philately. The history behind them and Rommel's Afrika Korps is fascinating. Not so fascinating is the forgeries of these stamps, which are very common.
One of the resources available to aid the collector of these stamps is the book "Die Tunispäckchenmarke und die Palmenstempel" (BDP Heft 49), which I will review below.
Die Tunispäckchenmarke und die Palmenstempel was published in 1978 (language: German), and is thus no longer obtainable unless you find it in used condition. It can be purchased here for 11EUR.
Although forgeries are covered in the book, it is unfortunately of very limited value in this area. Besides the obvious advice of comparing to known genuine specimens and examining using UV light, very little advice is presented to the reader.
The book show 72 different "Palmenstempel" along with their earliest possible genuine use. This is the most useful information in the book. According to the book, the best method of examining Postal History items is comparing the date of the Feldpost postmark with the Feldpost number. Was that particular unit in Africa at that time?
However, the author believes that this information should not be disclosed to the general public, as will help forgers in the "arms race". I think this is wrong, and since 1978 the information has luckily been made public. Kannapin is the reference to get. It can be purchased here for 36$.
If you collect Postal History I highly recommend Kannapin's book.
The different Palmenstempel and their earliest possible genuine use:
http://stampforgeries.com/wp-content/uploads/2014/02/Book1-forside.png
202
320
admin
http://stampforgeries.com/wp-content/uploads/2014/05/Stampforgeries.com-logo.jpg
admin
2014-02-04 09:48:45
2014-02-04 09:51:55
Book review: Die Tunispäckchenmarke und die Palmenstempel