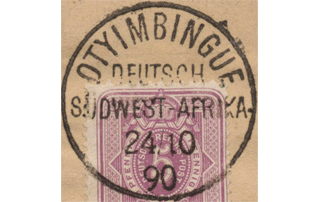 Postmark no. 120 of 170 in use in South West Africa. OTYIMBINGUE DEUTSCH SüDWEST-AFRIKA. In use from 7. July 1888 – March 1892.
Seen on the following stamps (Michel no.):
V. 37 (Vorläufer)
V. 39 – 51 (Vorläufer)
Source: Die Postwertzeichen und Entwertungen der Deutschen Postanstalten in den Schutzgebieten und im Ausland, 3. edition by Albert Friedemann.
Genuine example: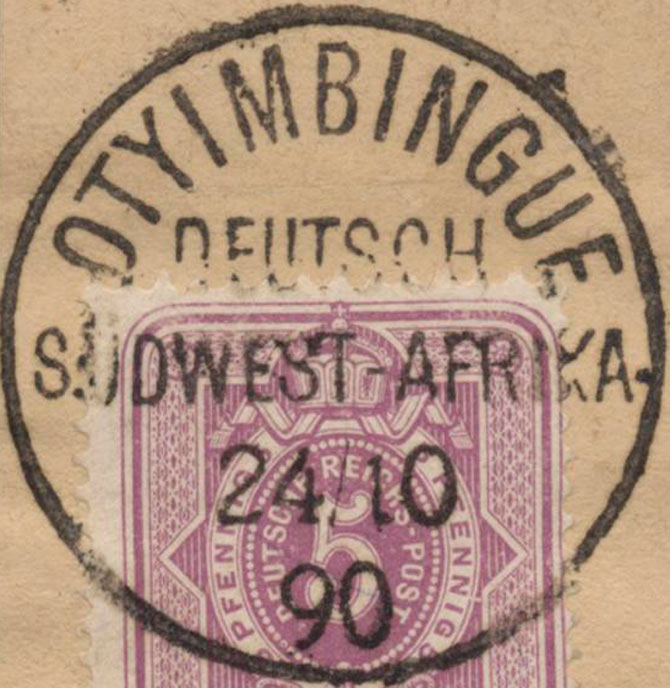 http://stampforgeries.com/wp-content/uploads/2013/10/GermanySWAfricaCancel120.png
202
320
admin
http://stampforgeries.com/wp-content/uploads/2014/05/Stampforgeries.com-logo.jpg
admin
2013-10-06 14:21:05
2013-10-06 14:21:05
German Colonies Postmarks: South West Africa - Otyimbingue