Forged stamps of Turks Islands
1867-1889. Queen Victoria. One Penny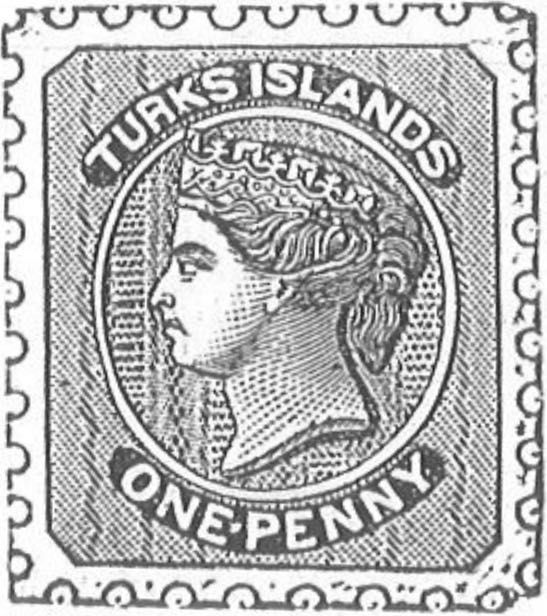 Illustration by Plácido Ramón de Torres: Album ilustrado de sellos de correo, Barcelona 1879. Torres sold illustrations to various dealers/forgers from 1864 onwards, as well as made forgeries himself.

1867-1889. Queen Victoria. Six Pence
1867-1889. Queen Victoria. One Shilling
Experts
Get certificates from these experts
RPSL – The Expert Committee
41 Devonshire Place
W1G 6JY London
United Kingdom
Tel: +44 (0) 20 7935 7332
E-mail: experts@rpsl.org.uk
Know any relevant websites? Please contact me!
Design type A1. First design of Queen's Head, 1867,1872-79, 1881. The issues of 1867 and 1873-79: Lowell Ragatz, "Spying Eye" column, The S.P.A. Journal, Vol. 8 (July 1946): 608,9 (and Spying Eye Handbook on Philatelic Forgeries, p.45); two forgeries, genuine and fraudulent postmarks: Reverend R.B. Earée, Album Weeds/ How to Detect Forged Stamps (Third Edition), Vol.2, pp.554,55. The Serrane Guide/ Stamp Forgeries of the World to 1926, p.350 (Yvert 1-16). Forgeries of the issues of 1867, 1873-79, the watermarked issue of 1881, and fraudulent postmark: Robson Lowe and Carl Walske, The Oneglia Engraved Forgeries, p.88. The 1873-79 issue: Paper XIV, Lowell Ragatz (editor), The Spud Papers/ An Illustrated Descriptive Catalog Of Early Philatelic Forgeries, p.47. Fake of the 1sh, 1879, made by removing surcharge: Scott Classic Specialized Catalog, note after No.6. J. Dorn (Publisher), The Forged Stamps of all Countries, p.123.
9-13, 29,30, 36,37. Provisional stamps, 1881. Forged surcharge on the 1⁄2p on 1p, 21⁄2p on 1d, 4d on 1d, genuine cancellations: Reverend R.B. Earée, Album Weeds/ How to Detect Forged Stamps (Third Edition), Vol. 2, pp.555-59.
Five Madame Joseph fraudulent postmarks, TI, AP 19/10 to 1942. Derek Worboys and Roger B. West, Madame Joseph Forged Postmarks, pp.100,1.
Source: The Tedesco Index