Forged stamps of Stellaland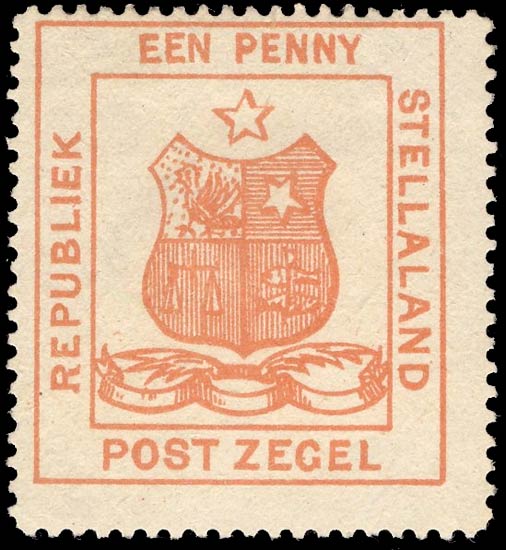 Forgery
The 7th vertical line in the lower right quadrant of the shield does not cross into the quadrant above
1884. Shield. Een Shilling
Thanks to Tim Harrison for images of Stellaland forgeries
Experts
Get certificates from this expert
Who is the leading Stellaland expert?
Know any relevant websites? Please contact me!
Holmes: Postage Stamps / Postal History, and Postmarks of the Bechuanalands, p.26.
1-6. The first Coat of Arms design, 1884. The Encyclopedia of British Empire Postage Stamps 1661-1947, Vol. II, p.94. Frank Aretz, Know Your Stamps, Vol. III, p.65. The Serrane Guide/ Stamp Forgeries of the World to 1926, p.326 (Yvert 1-5). Reverend R.B. Earée, Album Weeds/ How to Detect Forged Stamps (Third Edition), Vol. 2, p.424. J. Dorn (Publisher), The Forged Stamps of all Countries, p.118.
Source: The Tedesco Index