Forged Stamps of South Africa
1925. Airmail. Biplane. 1d
1925. Airmail. Biplane. 3d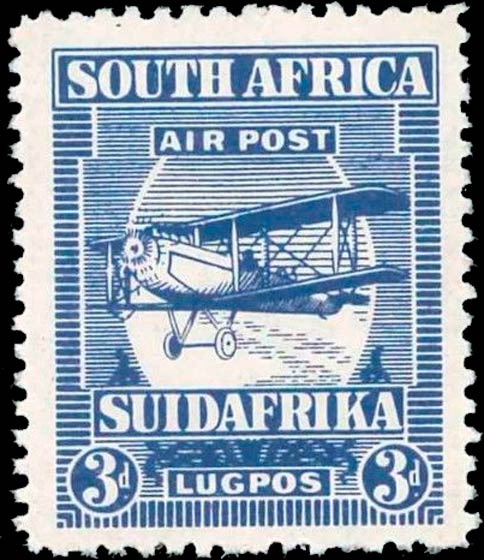 Forgery
Perforated 11 1/2 or 12
Small spot of color on the horizontal line below the right leg of 'A' in AIR

1925. Airmail. Biplane. 6d
1925. Airmail. Biplane. 9d
Experts
Get certificates from these experts
RPSL – The Expert Committee
41 Devonshire Place
W1G 6JY, London
United Kingdom
Tel: +44 (0) 20 7935 7332
E-mail: experts@rpsl.org.uk
Know any relevant websites? Please contact me!
Design Type A6. 1d Drommedaris, 1926-43. Measurements of overprint: Edwin Mueller, "new philatelic Research", Mercury Stamp Journal, Vol. 2, Whole No. 14 (July 1950): 42; correction at "Question Box" at Whole No. 15 (October 1950): 71. How to identify the issues: E. de H. Rowntree, "Identifying the South African 1d Pictorial", Stamp Collecting, Vol. 70 (July 3, 1948): 289,90.
C1-C4. Mail Plane Airmail issue of 1925. Alexander F. Newall, Airmail Stamps: Fakes & Forgeries, pp.287,88 (Sanabria Airmail Catalogue 1-4). Varro Tyler, Linn's Focus on Forgeries: A Guide to Forgeries of Common Stamps, Revised, Expanded Edition, pp.275-78.
Madame Joseph fraudulent postmark, 11 DE/00. Derek Worboys and Roger B. West, Madame Joseph Forged Postmarks, p.95.
Source: The Tedesco Index