1869. Sir James Brooke. Three Cents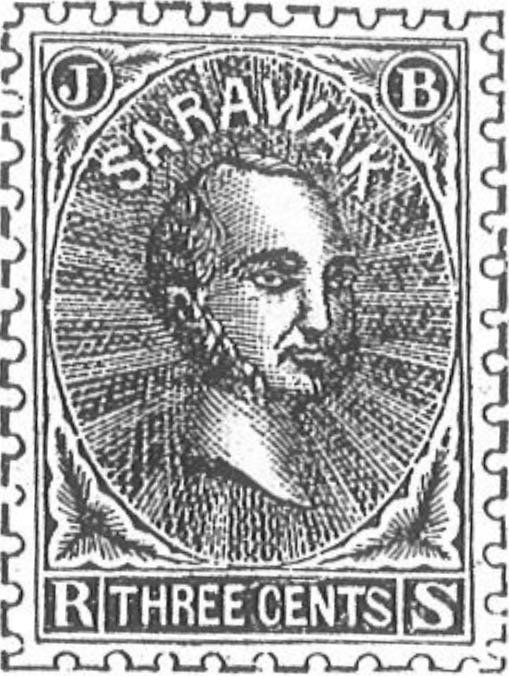 Illustration by Plácido Ramón de Torres: Album ilustrado de sellos de correo, Barcelona 1879. Torres sold illustrations to various dealers/forgers from 1864 onwards, as well as made forgeries himself.

1945. Sir Charles Vyner Brooke – Overprinted
"

BMA

"
Experts
Get certificates from these experts
RPSL – The Expert Committee
41 Devonshire Place
W1G 6JY London
United Kingdom
Tel: +44 (0) 20 7935 7332
E-mail: experts@rpsl.org.uk
If you know any relevant websites, please contact me!
1. 3c Sir James Brooks stamp, 1869. Measurements of the genuine stamp: J. Dorn (Publisher), The Forged Stamps of all Countries, p.116.
2. 3c Sir Charles Johnson Brooke stamp of 1871. Varro Tyler, Linn's Focus on Forgeries: A Guide to Forgeries of Common Stamps, Revised, Expanded Edition, p.258. W. Batty-Smith, "Sarawak The TWO CENTS/ THREE CENTS Provisional of 1874", The London Philatelist, Vol. 98 (November-December 1989): 200. Alden C. Johnson, Forgeries Old and New, Vol. 2, p.41. Measurements of genuine stamp: J. Dorn (Publisher), The Forged Stamps of all Countries, p.116.
—. 2c, Newspaper rate Provisional (Surcharged Type A2). Bogus: London Gang forgery: C. Jackson Selsor, "Sarawak's 1874 2-Cent Provisional", The S.P.A. Journal, Vol. 41 (February 1979): 381-86; Scott Classic Specialized Catalog (Note after No.2).
8. 1c, 1892. This stamp, when surcharged 1/-, is a non-contemporaneous favor specimen. The Encyclopedia of British Empire Postage Stamps 1661-1947, Vol. III, p.397.
20.50c value of typographed series, 1888-97. Fake made by eliminating the value tablet of Scott 37 and printing a 50c tablet in its place: Mercer Bristow, "Too-early cancellation tip-off to fraud", Stamp Collector, Vol.71 (September 1, 1997): 23.
28,31. 2c and 8c values of the Regular Issue of 1895. Proofs: Scott Classic Specialized Catalog.
159-73. Overprinted issue, 1947. Forged overprint. Robson Lowe (editor), The Gee-Ma Forgeries, p.11.
Two Madame Joseph fraudulent postmarks, 12/MAR/90, 23/MAY/1946. Derek Worboys and Roger B. West, Madame Joseph Forged Postmarks, p.91.
Japanese occupation. Falsifications of Japanese occupation of Netherlands Indies, Malaya, Borneo, Brunei, Sarawak, Labuan, etc.: N.H. Hedeman and R. Boekema, Dai Nippon in Southeast Asia, Fritz Billig, Billig's Philatelic Handbook, Vol. 19, p.175 et. seq.
Source: The Tedesco Index