Forged Stamps of Lombardy
&

Venetia
1850. Coat of Arms. 10 Centesimi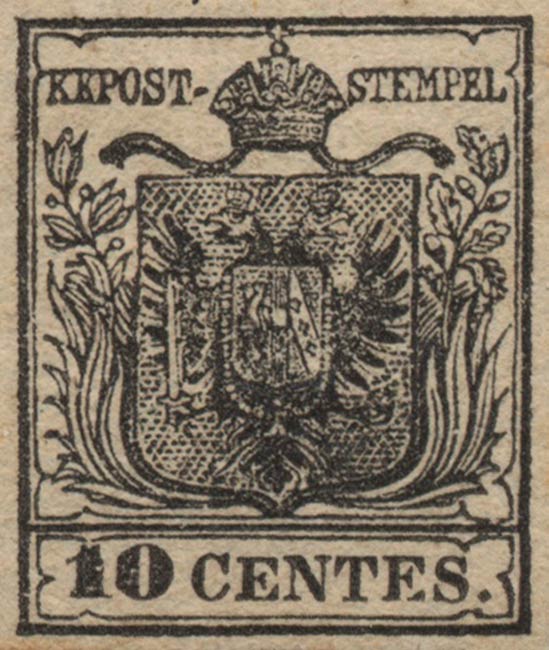 1
Leaves are well defined and slightly bended
2
Tiny leaf to the right well defined – not merged with upper leaf
3
'1' almost attached to the ornament. '1' slightly open at the top. Left line at the base is shorter than the right line.
4
Left side of 'o' is not as round as the right side.
Type 1a: Complete
Type 1b: Always broken in the upper part
5
Crown on the left eagle is slightly thinner than the one to the right
6
Upper serif of central line of 'E' broken

7
Type I: Bottom line of 'E' broken
8
Acorn is attached to the branch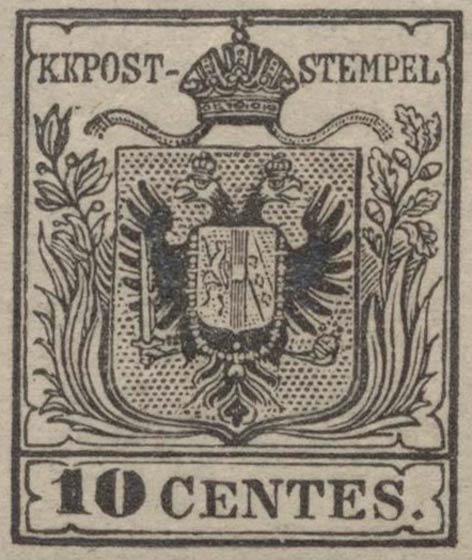 1
The shield (back of the Eagle) has been cleaned. The points have been cleaned in 2 directions (less regular) or 3 directions (more regular).
2
Second 'E' in "CENTES" has been repaired: No longer broken in the bottom line.
Genuine type III. Type II does not exist. Difference with type I as shown above.
2 different plates. Only printed on Machine-made paper. No watermark. Reprints exist.