1886. Queen Victoria. Two Pence
Illustration by Plácido Ramón de Torres: Album ilustrado de sellos de correo, Barcelona 1879. Torres sold illustrations to various dealers/forgers from 1864 onwards, as well as made forgeries himself.

1886. Queen Victoria. Three Pence
1886. Queen Victoria. Five Shillings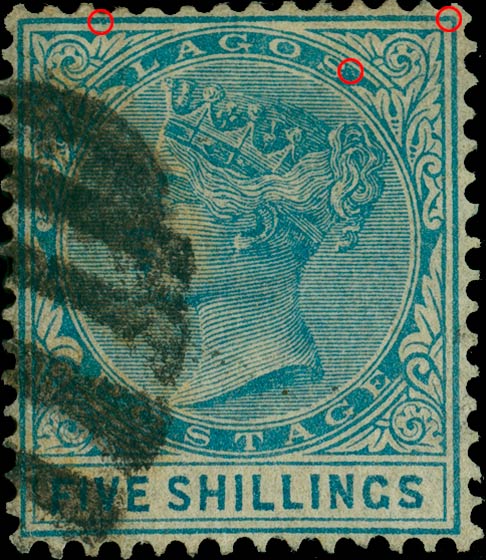 Sperati forgery

Outer frame broken at the top and in the top-right corner. Thin white line to the right of 'S' of 'LAGOS'
1886. Queen Victoria. Ten Shillings
Experts
Get certificates from these experts
RPSL – The Expert Committee
41 Devonshire Place
W1G 6JY, London
United Kingdom
Tel: +44 (0) 20 7935 7332
E-mail: experts@rpsl.org.uk
Filatelia.fi – Details about expertizers of British Colonies
Know any relevant websites? Please contact me!
1-6, Queen's head, perf. 121⁄2, 1874-75. Panelli forgeries: Herbert G. Porter, "The Posts and Postage Stamps of Lagos" (from Philately in Scotland), Stamp Collecting, Vol. 45 (February 22, 1936): 609,12.
26. 6p olive-green Queen's Head, 1882-1902. Varro Tyler, Linn's Focus on Forgeries: A Guide to Forgeries of Common Stamps, Revised, Expanded Edition, p.151.
31-38. High values of Queen's Head issue, 1882-1902. Sperati forgeries of the 2sh6p, 5sh, 10sh: British Philatelic Association (Publisher), The Work Of Jean De Sperati, pp.51,52 and Plate 12; two additional Sperati forgeries of the 5sh: Robson Lowe and Carl Walske, The Work of Jean De Sperati II/ Including Previously Unlisted Forgeries, pp.22,23 and Plate B. Robson Lowe, "Sperati and His Craft – III", The Philatelist, Vol. 19 (July 1953): 247-51, continued at Vol. 20 (October 1953): 2-4. J. Dorn (Publisher), The Forged Stamps of all Countries, pp.99,79.
Source: The Tedesco Index