1884-1886. Straits Settlements Stamps Surcharged 'JOHORE'
Stanley Gibbons lists 16 different overprint types. ISC lists 11.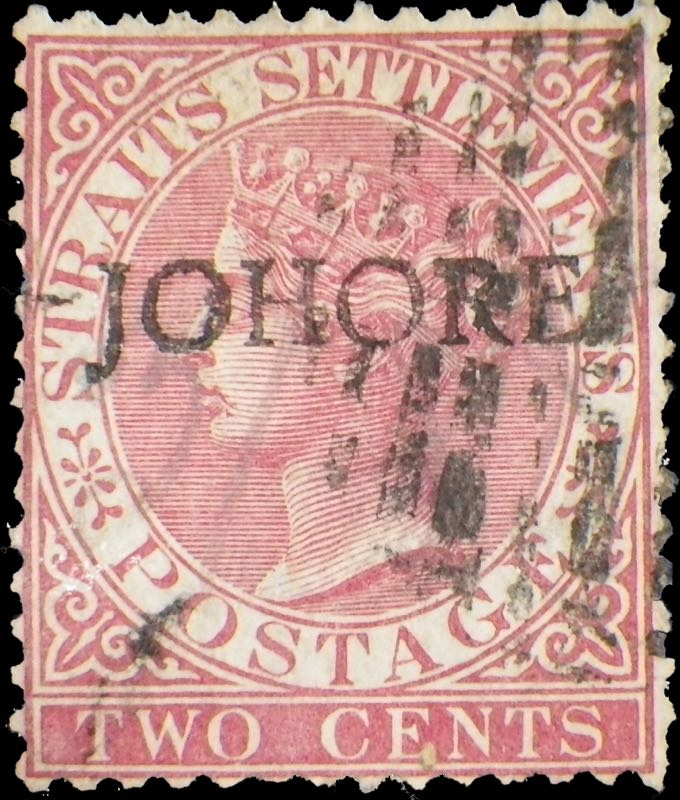 Original pen cancel removed. Forged overprint applied with moveable type (does not match any of the genuine types). Forged postmark.
Genuine Johore Overprint Types
According to Stanley Gibbons
Experts
Get certificates from these experts
RPSL – The Expert Committee
41 Devonshire Place
W1G 6JY, London
United Kingdom
Tel: +44 (0) 20 7935 7332
E-mail: experts@rpsl.org.uk
Know any relevant websites? Please contact me!
Japanese Occupation, NJ1-NJ5. Single frame Kanji overprint on Postage Due stamps, 1942. Forged overprint: George P. Coulter, "Malaya: From Singapore Northward: The Single-Frame Kanji Overprints", Japanese Philately, Vol. 21 (February 1966): 3-16. Robson Lowe (editor), The Gee-Ma Forgeries, p.10. Description of genuine chops: James M. Gallatly, "The Japanese Single-Lined Chops of Malaya", The Philatelist, Vol. 23 (March 1957): 147-51; James M. Gallatly, "The Malayan Chops: Dates of Overprinting", The Philatelist, Vol. 23 (June 1957): 235-38.
Source: The Tedesco Index