1859-1867. Coat of Arms. Neun Schilling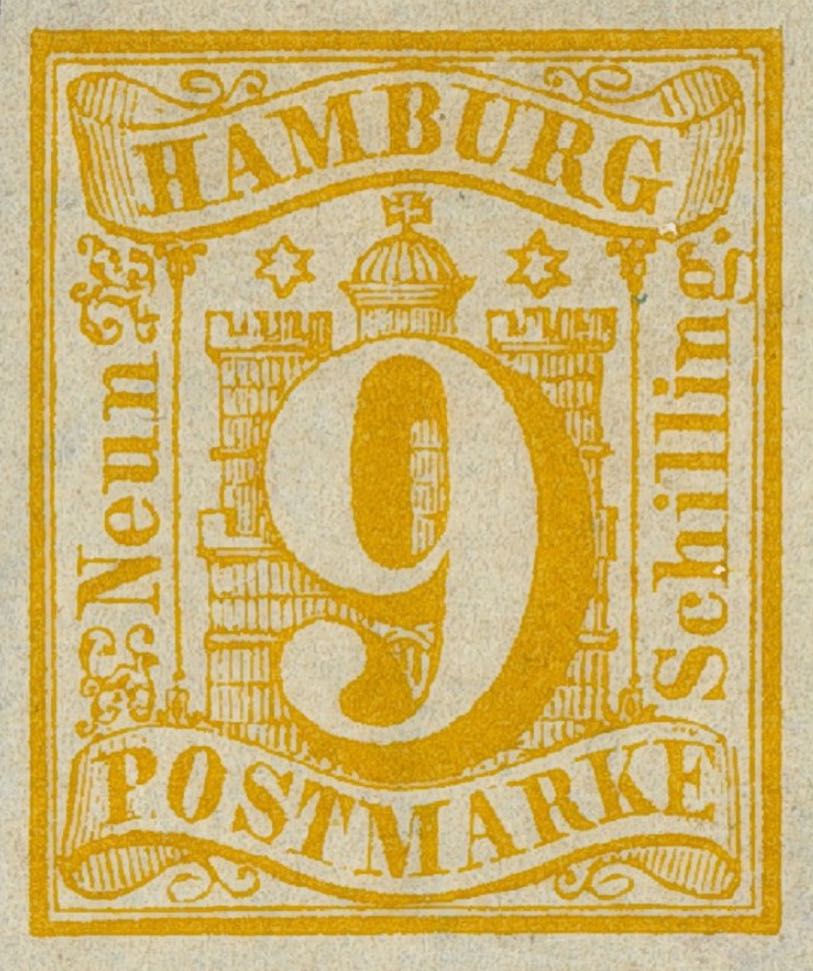 1
The two ends of the scroll are equidistant from both sides of the frame.
2
Five shading lines at the left side of the scroll.
3
"N" is a good distance from the curly ornament before it.
4
"P" leans toward the left.
5
Six, sometimes seven shading lines in the left loop.
6
"un" almost touch at the bottom, but not at the top.
7
Mid-stroke of "e" of slopes downward toward the right.
8
Left star is left-of-center of the second inside battlement.
Left star is closer to the dome than is the right star.
9
Two right-most pinnacles of each tower contain several shading lines.
10
Cross does not touch the scroll above it.
Stem of the cross is much thinner than the rest of it.
11
Two very thick vertical lines between the head and tail of the "9", at the castle door.
12
Shading below the tail of the "9" does not run into the outline of the scroll below it.
13
Right star is nearly centered over the second inside battlement.
Right star has an irregular shape and short points.
14
Right leg of the "R" ends in a very long tail.
15
Seven shading lines in the right loop.
16
Five shading lines at the right side of the scroll and traces of two more above to the right of the "G".
Point after Schilling.
17
"S" does not touch ornament above it.
18
Bottom of the scroll almost touches/touches the bottom of the frame.
Inside curly ornaments at the bottom are very close to or touching the scroll line.
19
Right side of the scroll does not touch the right inner frame line.
One shading line and parts of another after "E".
Shading lines below the "E" that touch its bottom stroke & above the "E"
The forgeries lack one or more of the characteristics described above

Beware of trimmed perforated stamps. To be on the safe side, make sure the margins are adequate (min. 21,5 mm x 25,5 mm)