1869
&

1874. Queen Victoria. Four Pence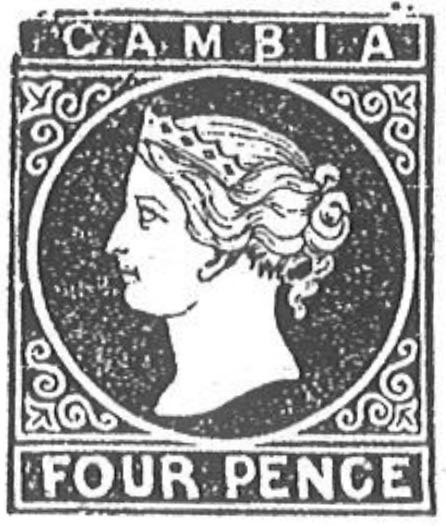 Illustration by Plácido Ramón de Torres: Album ilustrado de sellos de correo, Barcelona 1879. Torres sold illustrations to various dealers/forgers from 1864 onwards, as well as made forgeries himself.

1869
&

1874. Queen Victoria. Six Pence
1880-1887. Queen Victoria. One Penny
Experts
Get certificates from these experts
RPSL – The Expert Committee
41 Devonshire Place
W1G 6JY London
United Kingdom
Tel: +44 (0) 20 7935 7332
E-mail: experts@rpsl.org.uk
Know any relevant websites? Please contact me!
1-19. The "Cameos" issues, 1869-87. The Serrane Guide/ Stamp Forgeries of the World to 1926, p.104 (Yvert 1-19). Four forgeries, genuine and fraudulent postmarks: R.B. Earée, Album Weeds/ How to Detect Forged Stamps (Third Edition), Vol. 1, pp.388-90. J. Dorn (Publisher), The Forged Stamps of all Countries, p.93. Alden C. Johnson, Forgeries Old and New, Vol. 2, p.15. See below for more citations.
1,2. 4p and 6p Cameos, 1869. Fournier forgeries: Alfred J. Branston, "The Cameos of The Gambia", The Stamp Lover, Vol. 76 (October-December, 1984): 121. Spiro Brothers unembossed forgeries: The Encyclopedia of British Empire Postage Stamps 1661-1947, Vol. II, p.331. Forgeries and genuine cancellation: R.E.R. Dalwick, "The Gambia", Philatelist, Vol. 19 (October 1952): 8-11, continued at (November 1952): 30-33 (this article was published in many installments, beginning in Vol. 18).
6.3p ultrmarine Cameo, 1880. Oneglia forgery. Varro Tyler, Linn's Focus on Forgeries: A Guide to Forgeries of Common Stamps, Revised, Expanded Edition, p.109.
Ten Madame Joseph fraudulent postmarks, JA 2/97 to 1945. Derek Worboys and Roger B. West, Madame Joseph Forged Postmarks, pp.52,53.
Source: The Tedesco Index