Forged Stamps of Bergedorf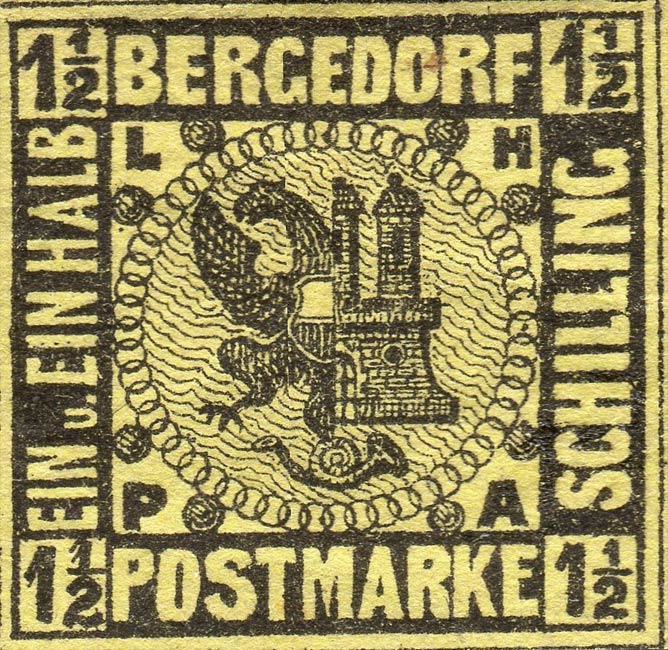 1
The B of Bergedorf has its lower half considerably larger than the upper
2
The line which divides the fraction of 1/2 in the right-hand top corner touches the outer border-line of the frame, as does also the similar line of the fraction in the bottom left-hand corner.
3
In the lower left corner, the small numeral "1" has two serifs.
4
There is a large dot very plainly visible after the "u" in the value "EIN u. EIN HALB".
5
All balls in the inner frame touch both rings and frame. The shading is quite visible.
7
55 evenly spaced interlocking rings.
8
Dot in/on the ring below "E" of "Bergedorf"
9
Dot in the ring left of "L" in "Schilling"
10
Dot in/on the ring above "M" in "Postmarke"
11
Base of the tower is flat. (No triangular pointing downwards)
12
There are six white lines in the bottom of the shield (the left-most is very short and narrow, sometimes not visible)
1861. Genuine Michel #3
Paper: Color ranges from pale greenish-yellow to orange-yellow.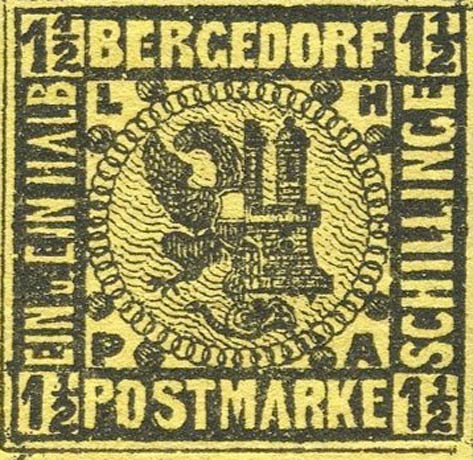 1872 Moens reprint
Coin denomination "SHILLINGE"

Smudged Posthorn

Triangles pointing downward at right part of the castle-like crest half

Double up-stroke of the lower fraction numeral "1" unclear, partly blotched

Black connection line right at the head of the broken figure "1" in the upper left numeral value field

Wavy lines usually still quite clear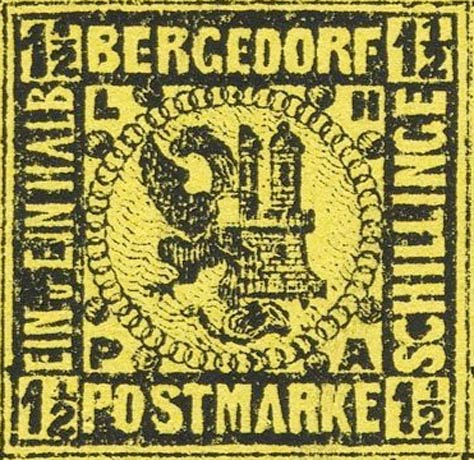 1887 Moens reprint
Coin denomination "SHILLINGE".

Fractional number "1" somewhat smaller and with a coat.

Smeared Posthorn and triangular downward smearing at right part of the castle-like crest half.

Wavy lines still unclear, some with clear failures.

Above the Eagle's beak usually a more or less large black spot.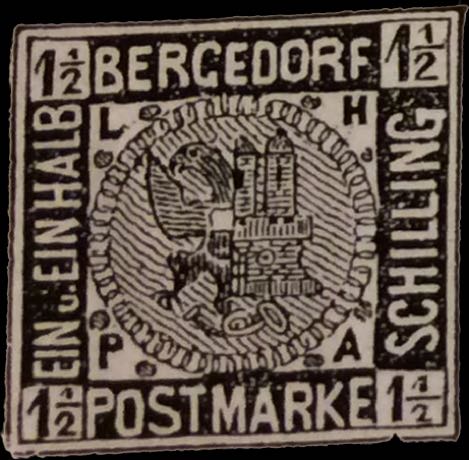 Illustration by Plácido Ramón de Torres: Album ilustrado de sellos de correo, Barcelona 1879. Torres sold illustrations to various dealers/forgers from 1864 onwards, as well as made forgeries himself.